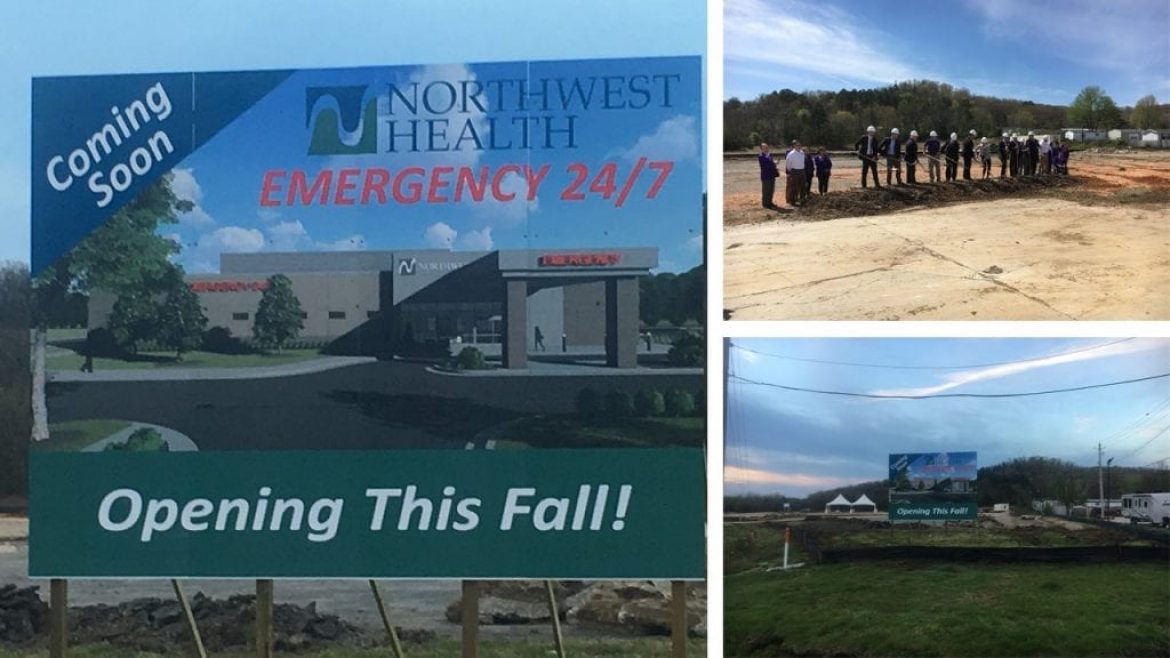 Northwest Health New Freestanding Emergency Department
SPRINGDALE, AR (April 8, 2019) — A groundbreaking ceremony was held today for a new stand-alone emergency department being built by Northwest Health in Fayetteville. City and county officials joined Fayetteville Mayor Lioneld Jordan, Prairie Grove Mayor Sonny Hudson, Fayetteville Chamber of Commerce officials, and health system leaders for the ceremony, which launched construction for the multi-million dollar project.
The new facility will be located at 1255 S Shiloh Drive in Fayetteville, the site of the former Clarion Hotel. The construction represents an investment of approximately $9.5 million, according to Denten Park, Market CEO for Northwest Health. The 10,300 square-foot facility will house advanced techology, including a 64-slice CT scanner. The 24/7 emergency department will be an extension of services for Northwest Health. It is expected to be completed in the fall of 2019.
"We're excited to expand our presence in the community of Fayetteville," Park said. "It's a thriving community with significant growth potential. We've experienced increasing demand for our services through our existing providers here, including primary care and urgent care in addition to Northwest Health Physicians' Specialty Hospital, and we look forward to opening this new service to meet the growing demand and expand care options here."
Steve Clark, President and CEO of the Fayetteville Chamber of Commerce, commented that Fayetteville likes "being on the 'cutting edge' when it comes to medical care and that this freestanding 24/7 emergency department most certainly represents 'cutting edge' care."
Fayetteville Mayor Lioneld Jordan said: "The health care industry plays a significant role in Fayetteville's economy, and this investment from Northwest Health strengthens this sector even more! This facility will also play a role in our residents' health and well-being by giving them expanded accss to these services in Fayetteville."
Prairie Grove Mayor Sonny Hudson also participated in the event, expressing his excitement about the new medical facility, less than 10 miles from the community he serves. "I was very excited to learn that a medical facility would be built here. This is great news for our citizens."
Northwest Health is leasing 2.8 acres of the 7-acre track which is being developed Commercial Realty LLC, based in Little Rock, AR, according to Tyler Wilson, Broker/Developer.
Nashville, Tenn.-based HFR Design is the project architect.
About Commercial Realty LLC
Commercial Realty, LLC is primarily a full-service commercial real estate company. We started our firm in 1991 and have offices in two of Arkansas' most thriving areas: Little Rock and Fayetteville. Our approach to client service is to first establish a long-term relationship.
About HFR Design
At HFR Design our staff not only consists of Architects, Engineers, Planners, Surveyors and Interior Designers but we are also collaborators, inventors, creators and problem solvers. We are fortunate to serve clients across the country from a variety of sectors including healthcare, municipal, government and commercial.