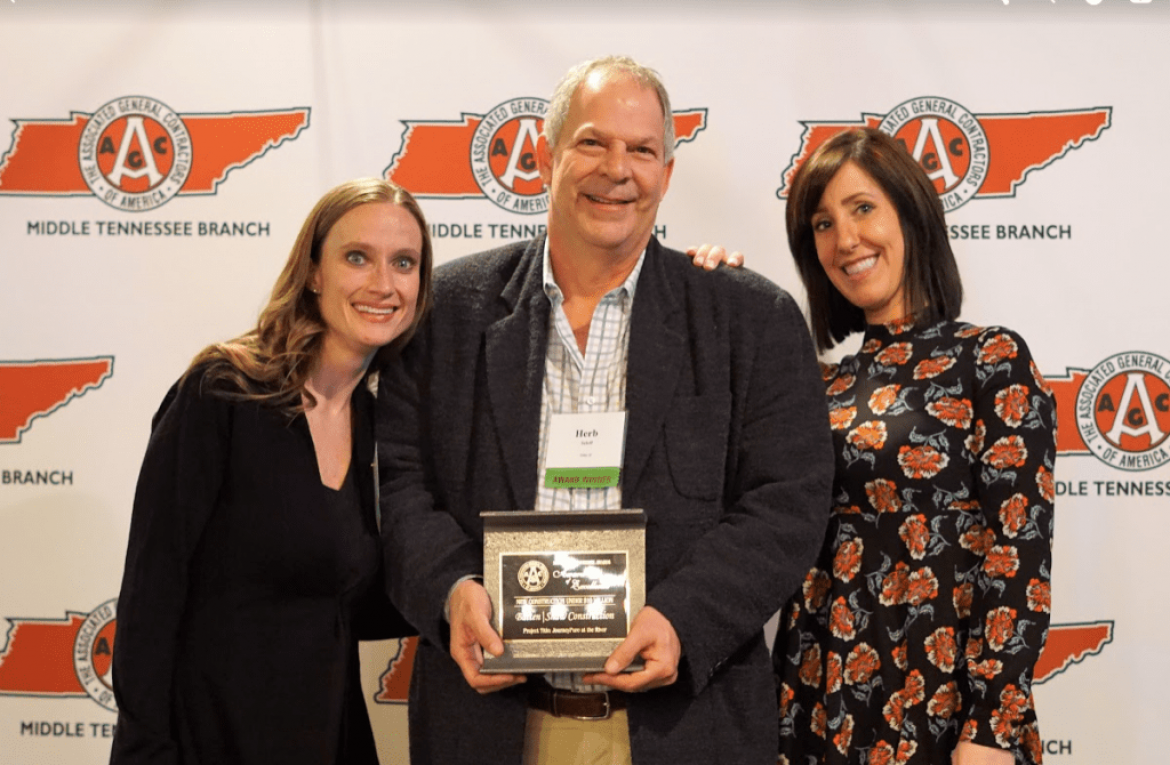 Batten | Shaw wins 2017 AGC Build Tennessee Award – JourneyPure At The River
The Associated General Contractors of Middle Tennessee held their AGC Build Tennessee Awards Banquet March 16th at The Loveless Barn. Batten | Shaw Construction was recognized for the Award of Excellence in New Construction under 10 Million for the JourneyPure At The River project in Murfreesboro, TN.
JourneyPure At The River is the first addiction treatment rehabilitation complex community in Rutherford County that includes a medical stabilization building to aid patients in overcoming withdrawals, a top of the line administration building for their hard working employees, residence buildings to shelter and comfort the patients, hub buildings used for group meetings and exercise, and an activity building used for large gatherings and dinners. The project consisted of ten total buildings on 127 acres and the largest septic system in the southeast United States with over two miles of drain lines. Although the winter months created a challenge with installing the septic system we were able to keep things on track and open the buildings as they were completed. Batten | Shaw was pleased to work with Lowen + Associates as the architect on this project and look forward to working with them again in the future.
About JourneyPure At The River
Our Mission is to help patients get healthy and stay healthy.
Nestled among 127 sprawling, scenic acres near Nashville on the West Fork of the Stones River, JourneyPure At The River exemplifies the best in modern addiction and mental health treatment services.
We deliver unparalleled medical and clinical services utilizing a trauma informed, fully integrated, dual diagnosis treatment model designed to meet the specific needs of each individual. JourneyPure At The River's programming and staff specialize in preparing each patient for long-term recovery success.
About AGC Build Tennessee Awards
AGC of TN – Middle TN Branch, like other AGC Chapters across the country, strive to recognize General Contractor, Architect, Engineer, Subcontractor, Supplier, and Service Provider members for their outstanding performance on some of our state's most noteworthy construction projects. Additionally, we will be recognizing firms for their excellence in serving the construction community of Tennessee and leading with Skill, Integrity and Responsibility. This is one of the most valued services AGC of TN – Middle TN Branch provides to its member firms.