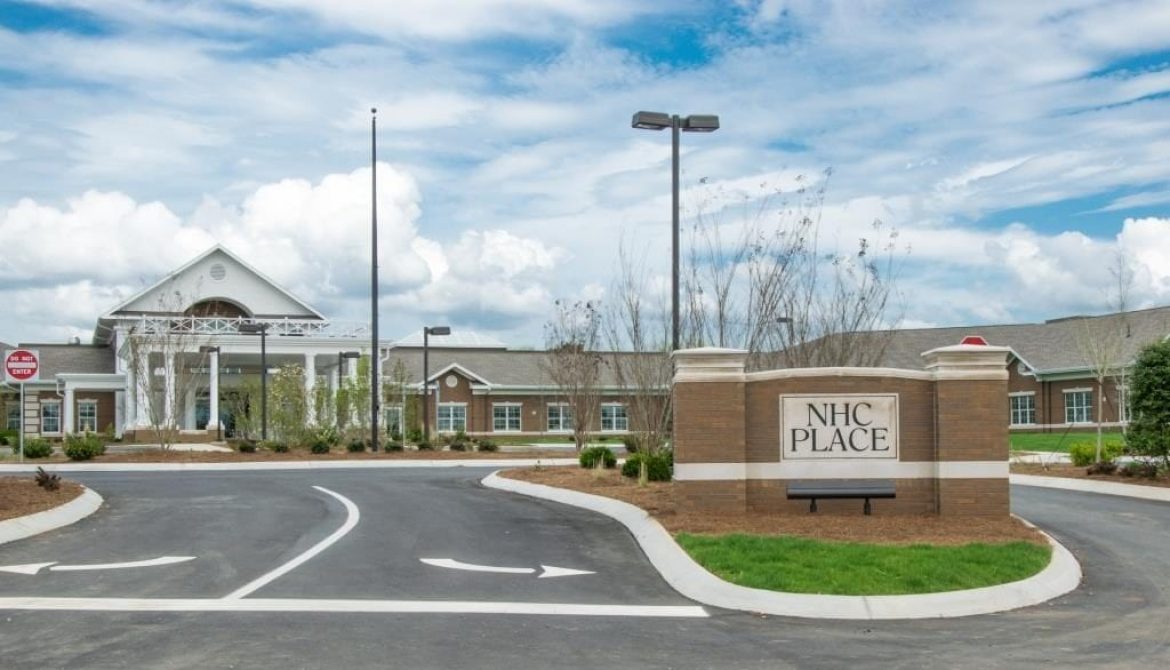 An Insiders Perspective about a State of the Art Senior Living Community in Gallatin TN
NHC Place in Sumner County opened in April of 2015, it is the first senior care community in the County that includes an Assisted Living Center and a multi-specialty Health Center within a single campus.
NHC Place, Sumner distinguishes itself by providing residents and patients of any age, assisted living, continuing care and secure memory care. This state-of-the-art center serves patients' and residents' with changing health needs, both comprehensively and compassionately. They enable residents and patients to maintain their independence and good health for as long as possible, allowing them to age gracefully and with dignity. We sat down with Todd Moore, the Healthcare Administrator to learn about what life is like in their new facility.
Q. If a family has never visited your facility, what would you like them to know about it?
A. We are a Senior Living community where at certain stages of life we take care of all your needs, from a senior living vantage point. If you need rehabilitative care because you've had a set-back, we're here to do that. We help get you back on your feet, get you stronger and get you back home. If you need 24-hour care, we provide that as well. If you're looking to reduce your stress levels and live in a safe environment, we can do all the heavy lifting through assisted living. We cook, clean, and do all the planning while you live in your apartment, as independently as you choose. We'll even help with things like making sure you get all your medications etc. Our facility is about helping you extend your life and enhance your quality of life.
If you have a family member who is suffering from early on set Alzheimer's, we have an exceptional stand-alone memory care unit. The structured environment enables the individuals to slow the effects of Alzheimer's/Dementia and live in a stimulus free environment, in which the routines, patterns and behaviors allow them to live at the highest level possible.
We also meet all needs from a home health standpoint. Our gym, along with our therapy team, is also a licensed home health agency. We provide out-patient services where you can continue your rehabilitative course if needed.
If you get to a point, which we all will at some point, where end of life is near we also provide hospice services that can take place in any area of this building. A hospice nurse can be brought in at your choosing and can be a part of your plan of life as well.
Q. When it comes to patient care, what's most important to you and your team?
A. It's meeting and exceeding the medical and clinical needs of our residents, as well as their expectations. Everybody that comes here has different levels of expectations and what they feel is exceptional service. We do a lot of listening and avoid assumptions. We consider their needs, both medically and clinically through our care planning team, that includes a physician, in conjunction with their family.  When mistakes occur, the first thing we want to know is what caused it and how we can prevent it from happening again.
Q. How important is your work environment, to your ability to deliver high quality patient care?
A. That is one of the things I think makes us exceptional, we only hire the best of the best. We have very high expectations of the people we hire. The team here was hand-picked, from the management staff that I hand-picked, to the employees they hand-picked.  I make it very clear that they are here because I only want the best of the best. Therefore, they feel the same way about their staff.  When you have an environment like this – where the hallways are a little shorter, work stations that have plenty of space to house equipment and the supplies that we need – you create an environment that allows the staff to work smarter not harder. With that, you not only have happier employees, but you're going to have happier residents and patients as well. We have one of the higher employee satisfactions levels within the company which goes hand-in-hand with the building we all work in. We have carefully planned spaces, hallways are wider, the ceilings are taller and the rooms are private. If you hire great people and are supported by an amazing structure, it results in a healthy culture. It's just amazing what can be achieved. The building doesn't provide care, but it certainly enhances the quality of care possible for the individuals that are providing it.
Q. What services do you offer, that differ from other assisted living facilities?
A. Honestly, it's meeting the patients' basic needs. Their need to be fed, need to be educated…I think when you provide all the amenities that touch those basic needs you have a happy patient. You have enough staff, enough seating for your family, you have a big enough room, good lighting, a bathroom that that they can all use. It's having that environment and the nurses showing them how to use it – it's a partnership.
Q. How has the new facility helped make your staff more effective?
A. Up until now, there weren't a lot of options and the options that were available had some real limitations. The buildings were older, hallways were tighter, rooms were semi-private. Our facility represents a different vision and a new set of ideas that came to us through our architects and the leadership of President and soon-to-be CEO, Dr. Steve Flatt. This is the first building that NHC has built utilizing this concept. I've been with the company for 22 years and I never dreamed I'd have the privilege to operate in such a wonderful building. I think NHC will use this plan for future facilities but you probably won't see another layout like this one. We got lucky with this one – the amount of land right by the lake, in the heart of Sumner County off of Gallatin Pike. The land is flat, so most of the facility is on one level with a grand entrance, it's just beautiful, everything about this place is just beautiful.
Q. What feedback have you received from your patient and their families?
A. The feedback has been great. Typically, most of it is from individuals that live here. They rave about the elegance of the facility and how quiet it is. When you think about a nursing home, that doesn't really give people a warm feeling, but when you're here the words "nursing home" never comes to mind. You feel like you're at a resort. The way the building is laid out, the ease in which you can park and get in and out, makes people feel like they're at something special. That it's an honor to be here instead of "I have to go to rehab". People look forward to being here and sometimes it means being here under dire circumstances. That's a huge compliment. Families like not having to share a room and appreciate the private bathrooms. The way this building was built, there's a lot of space to sit and relax. A lot of common areas, courtyards and places to go and enjoy your time while you're here. All of our services here are top-notch.
Q. Do you think the new facility is helpful in recruiting medical professionals to join your team?
A. Yes absolutely. When you have the reputation that we do within NHC and with NHC being an industry leader, that reputation is only bolstered when you have a building like this. Rarely do we have a nurse, therapist, doctor or outside vendor who doesn't want to work with us here. When they come to our place, they often start thinking about how they can be a part of what we are doing here. It's a great recruitment tool, a beautiful building helps bring them in and a wonderful culture keeps them here.
Q. How does technology improve the effectiveness of your staff and the experience of your residents?
A. One of the things we installed were smart TVs in each room. They were set up with Wi-Fi, so if someone has a Netflix account they can login, or a Pandora account they can listen to music. Our gym is 5,000 square feet, there are very few like it within the country, let alone in Sumner County. We have a track system built in, which allows those that are non-weight bearing to get up and get back to a weight bearing status. That helps them get on to their rehabilitation course much faster.
The set-up of our occupational therapy kitchen allows people to not only practice procuring food, but also cooking and preparing meals, cleaning, and washing their own clothes. The types of things that allow them to get right back to living.
Our assisted living technology is exceptional. If a resident has a need, they can pull a help cord or hit a pendant they wear.  An alert indicating the type of emergency and the room location is immediately sent to all our staff in assisted living and three monitors at our nursing stations. The alert is also sent to the hand-held phone the staff carry.  The first one in the room swipes their hand-held phone on the room keypad, alerting everyone that a person is in the room providing assistance. Our response time in assisted living is fast, accurate and universal.
Q. Is there anything else you would like to add?
A. NHC is a great company that I'm proud to be a part of. I'm surrounded by good people, I couldn't be more blessed to be where I am today and work for such a great company.
To learn more about NHC Place Sumner please visit nhcplacesumner.com