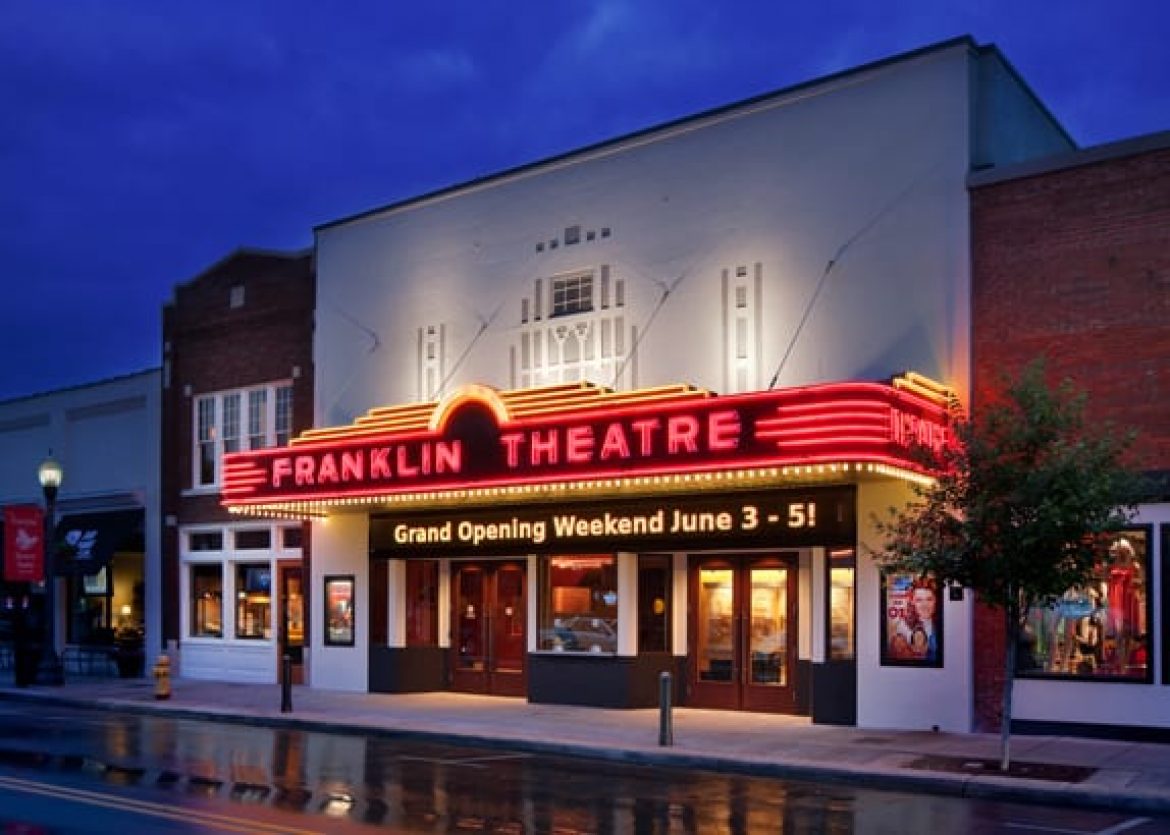 The Heritage Foundation Provided Leadership & Vision to Fuel the Renovation of the Historic Franklin Theatre
Recently we sat down with Executive Director of Franklin's Heritage Foundation, Mary Pearce who has been a part of the organization for three decades. She is actively involved in every project that the Heritage Foundation manages, including heading the charge to save the beautiful Franklin Theatre, which is a landmark property for our region.
Q. Tell us about The Heritage Foundation
A. It all started when a house was torn down that was built in the 19th century at the corner of 5th Street and Bridge Street. The house was demolished to build a filling station that later became a strip mall. A group of local citizens got together from diverse backgrounds and said if we don't get an effort started to focus on historic preservation, we will lose all these beautiful pieces of architecture that we care so much about in Franklin. Out of those meetings the Heritage Foundation was formed in 1967, we will be 50 years old next year. We're gaining all kinds of national recognition, we've won the National Trust Organization Excellence Award, named one of the best 3 places in America for historic preservation, Garden & Gun did a reader's poll for best small city in the south and Franklin won. We're winning all kinds of accolades but it's really a 50 year overnight success because people have been working for years to save this precious fabric of our community.
Q. What led to The Heritage Foundation saving The Franklin Theatre?

A. It was never an empty building and has always been embraced by the community. When it was closed they still had about 1000 people coming to the venue. The previous owner rented it to 2 business men that ran it as a theatre, when he sold it the rent doubled and the two guys running it just couldn't afford to pay the rent. They announced they were going to close the doors. I was getting about 20 phone calls a day from the community asking what the community was going to do to save the theatre. We contacted the League of Historic American Theatres and they had a mentoring program that helped people save theatres. At the same time, we talked to the group of inv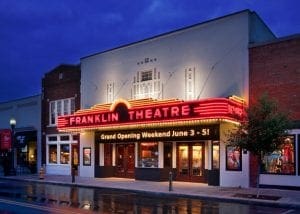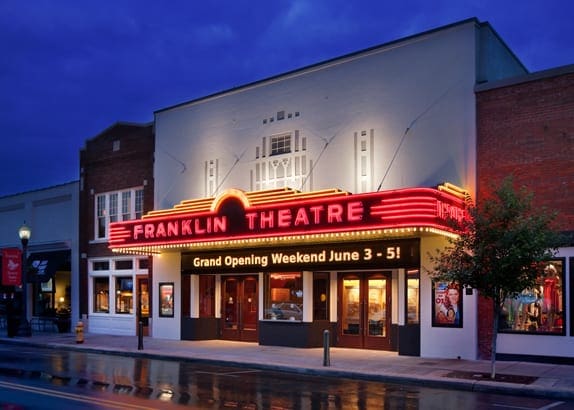 estors who
bought it and asked to please give us a chance to find someone who could operate it as a theatre. That year we also joined the League of Historic American Theatres, who brought in a team of experts and we learned that not only did we want to save the theatre; but we needed to save the theatre to help Main Street thrive. The economics on Main Street were fragile. The experts from LHAT advised us that if the Franklin Theatre closed it was going to be devastating.  We also learned that the theater needed to be in the hands of owners who would continue to use the theater as a theater. We hadn't been able to identify anyone within a year's time, that would operate it as a for profit movie business, but we did have several groups that were interested in purchasing it to use as church. Churches are wonderful, but churches can be anywhere, and this was the only downtown theatre Franklin had. At that point, we changed our tactics to 'we need to buy this theatre' and the good guy investors in Nashville (thank you Mark Bloom) said "ok we will sell it to you".  We had patched together a plan to raise the money to acquire the building and Emily Magid, a Heritage Foundation volunteer called David Garrett, then president of the Heritage Foundation  early in the morning and said I've been up all night, let's see if I can help you buy that theatre. She was able to make a loan to the Heritage Foundation that she later forgave and the Heritage Foundation purchased the theatre (Yea, Emily). Then the organization got into the heavy lifting, we learned from the League of American Theatres that it had to be a multi-use facility. We would need to use it for movies, live music, fundraising events etc.  Batten | Shaw and Hastings Architecture stepped in on the front end and were able to provide a preliminary plan and budget, which was critical so we had a plan and the project cost projections as we called on donors to demonstrate what it was going to take to execute the vision. It was 2008, one of the most economically challenging times since the great depression, but this little theatre gave people hopes and dreams for what it could be and we were able to raise the money and begin construction, despite what was going on in the economy.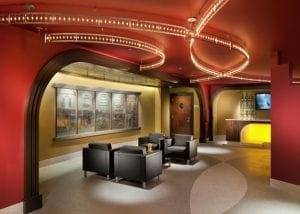 Q. What condition was the Theatre in prior to the renovation?
A. The condition of the theater when we started was in such poor condition that you could put your whole leg through one of the holes in the stage. One of the toilets upstairs, overflowed to downstairs when we were showing the building to a potential donor. It was in rough shape, to say the least. We had to rebuild the walls, floors, roof and balcony. The Heritage Foundation was able to add restrooms downstairs to make it handicap accessible and its LEED Certified*. Because of the Board of Directors' values and vision, along with our desire to be historic preservation leaders, it was important that we demonstrate to people that these old buildings can have a future, in fact a really bright future, if a rehabilitation is done well. This was the first historic building in Williamson County to my knowledge that sought LEED certification and achieved it. Building green is just the right thing to do. We think that preservation was the first recycling in America, so it only makes sense to have that important certification.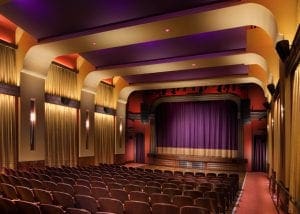 Q. How important was saving the Theatre and what impact has it had on the community?
A. We let the wonderful people of Franklin know that they didn't have to go to Nashville to attend a cultural event since the Franklin Theatre had world class live music and more. Now people from Franklin, Nashville and throughout the region attend events here in our hometown. It turned out to be a very inspiring project and cultural events have taken root and blossomed since The Franklin Theatre reopened. Dan Hays is the director of the Franklin Theatre and he reports the following:
70,000 people a year come to the Franklin Theatre
The theatre helped raise over $3.5 million for local charities
Direct economic impact of the theatre is $3.8 million per year
Over 600 events hosted each year
Live music and cultural events have been inspired by the opening of the restored venue, which resulted in a new level of vitality that the downtown core had not previously known
Q. What kind of feedback do you get from attendees and performers about the renovation project?
A. Patrons think the Franklin Theatre is such an enchanted place to come listen to music. The sound and lighting are world class. We have 330 seats and there is not a bad seat in the place. To go into the theatre and hear Vince Gill & Amy Grant or Michael W Smith, to experience music in this intimate setting is just magical. And to be able to watch a movie, has just been the cherry on the sundae. The marquee out front glows and actually lights up Main Street.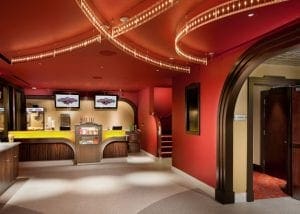 Q. What types of events are hosted at The Franklin Theatre?
A. Films, live music, lectures, award ceremonies, symphony music – all genres of classical music, Comedy Shows. We've even had a dog show, almost anything you can think of that is appropriate for an intimate setting, the Franklin Theatre can accommodate. Even though it's a small theatre, Batten | Shaw, the architects and the Heritage Foundation made sure every inch was utilized in the best possible way. I've been to maybe one or two shows where the performer hasn't said "Oh my gosh, I love performing at The Franklin Theatre." It's just wonderful knowing we're passing this on to future generations. I know Batten and Shaw appreciates the future legacy of this project and knowing they were the construction company.
Q. Are there any projects The Heritage Foundation is currently working on preserving?
A. We just moved into the Old, Old Jail in January that we saved from demolition by neglect. We meet once a month to discuss trails throughout Franklin. We're working on making sure the Old Junk Yard is reclaimed. We have the next generation of Heritage Foundation members who understand and support the importance of preservation. There are so many historic preservation projects happening in Franklin that keep our community from being Anywhere, USA.
Q. Is there anything else you would like to share?

A. People always ask me 'why do these things happen in Franklin?' It's the people that make them happen. Lots of communities have been blessed with beautiful historic resources, beautiful farm fields, country roads, rural villages, but if the people don't engage to save them then one by one, with one reasonably good decision at a time, irreplaceable things get torn down and disappear and their stories disappear with them. The stories that buildings like the Franklin Theatre or this one (Old, Old Jail) represent are the memory of this place we call home".
To learn more about The Franklin Theatre please visit franklintheatre.com
To learn more about The Heritage Foundation please visit historicfranklin.com
*The Franklin Theatre is the community's first LEED-certified historic restoration project. LEED, short for Leadership in Energy and Environmental Design, is an internationally recognized certification system developed by the U.S. Green Building Council. LEED is aimed at improving building performance in the areas that matter most – energy savings, water efficiency, and reduced CO2 emissions.