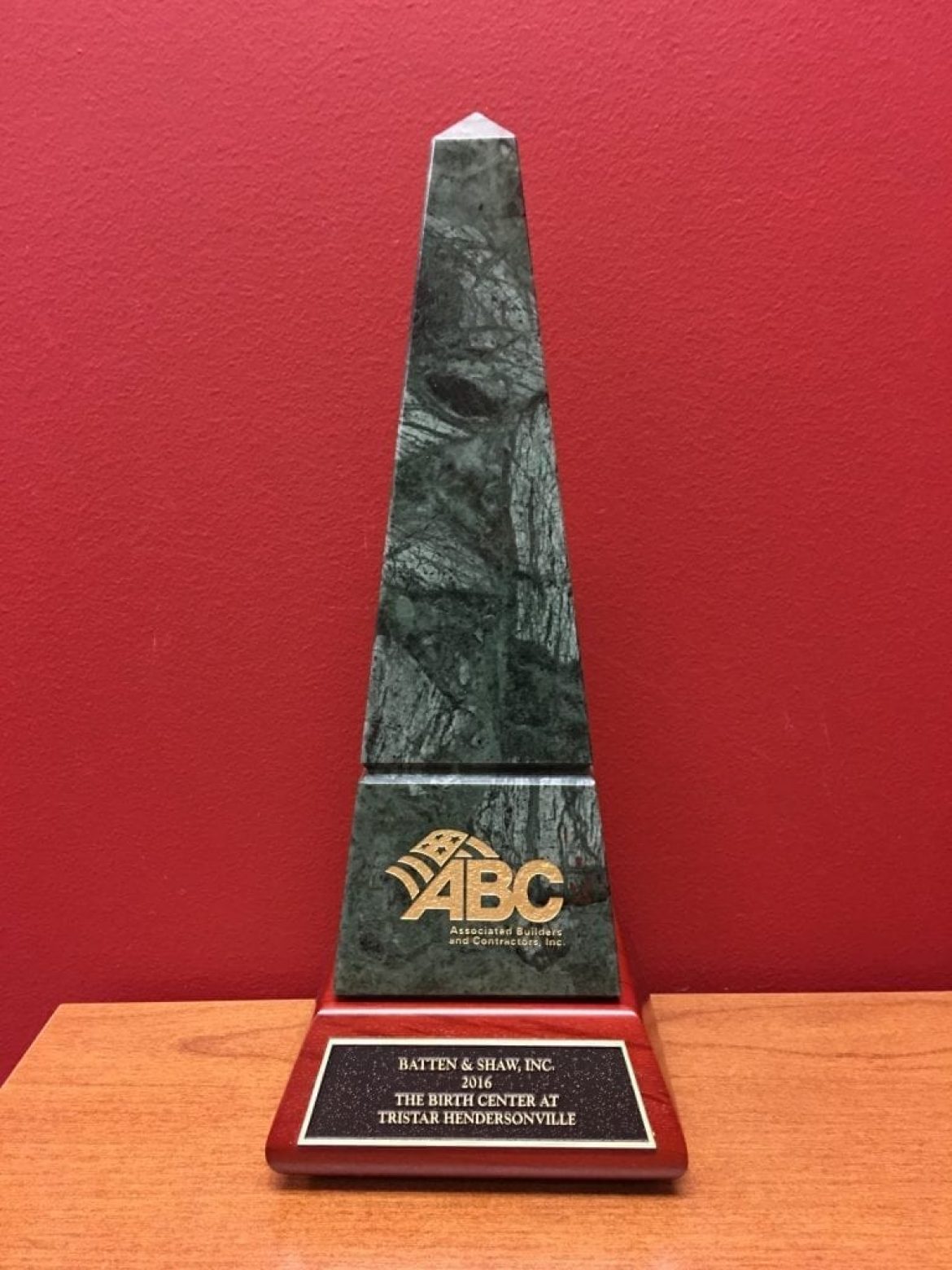 2016 ABC Award of Excellence – The Birth Center at TriStar Hendersonville
Batten | Shaw received the 2016 ABC Award of Excellence in the Healthcare $15 – $18 million category. The Birth Center at Tristar Hendersonville Medical Center Project was built as part of a large phased project. The location of the project is 355 New Shackle Island Rd. in Hendersonville, Tennessee. The Birth Center Phase of the overall project includes 20,976 square feet of new construction for patient use and 20,602 square feet of lower level shell space with a contract value of $15,091,722.  The addition was built adjacent to the existing hospital and tied into the facility with two connector wings.
The addition of The Birth Center for Women's Services was built in order to relocate the existing women's services from the second floor of the hospital, in order to create a new space designed specifically for Women's Services, and open up the previously occupied space for medsurg patients. As part of the project scope for the Birth Center Addition; a Neonatal Intensive Care Unit was built. With this addition, Tristar Hendersonville Medical Center became the first facility in Sumner County to offer NICU services. This allows members of the Sumner County community a service that was historically only available to them in Davidson County. With the luxury of private NICU rooms, families are now allowed to stay overnight in the facility with their NICU children. Additionally, each NICU room is set up to accommodate twins so that siblings born together needing NICU services can be in the same room. The Birth Center at TriStar Hendersonville includes six private NICU rooms, and one transition room. The transition room allows NICU parents to stay overnight at the Hospital the night before taking their baby home; while enjoying the luxury of a room set up like a typical residential bedroom. This allows families to spend a final night in the hospital with available assistance from the nursing staff and doctors prior to taking their children home. This is an additional service that the community and patients benefit from, which was not previously available.
Batten | Shaw was honored to have been chosen as the General Contractor for The Birth Center. The Vision for this project was executed throughout the entire construction process. Our dedication to making this vision a reality
was always top-of-mind and the quality of the finished product was second-to-none. The level of care and ownership of work shows in every detail of The Birth Center. The state-of-the-art technology and numerous added features highlight the beauty of this project. Batten | Shaw is also priviledged to call TriStar Hendersonville and Healthcare Corporation of America a repeat client as we are committed to excellence in building construction.
About Batten | Shaw Construction
Since our formation in 1988, Batten & Shaw has enjoyed the opportunity serve customers in Middle Tennessee and grow our project portfolio from the Atlantic to the Pacific.
Our proven experience in commercial construction, our reputation for standout workmanship, and our commitment to providing clients with an enjoyable building experience has afforded us the opportunity to partner with companies that set a very high bar for the outcome of their projects.
Batten & Shaw's long standing reputation for excellence has been born out of our attention to detail, strong customer relationships, and unique ability to work in occupied facilities. Often these facilities are operating expensive equipment that must remain fully functional throughout the construction process. We provide a full-service construction offering for complex multi-phased projects, renovations and expansions and new from the ground-up construction.
About The Birth Center at TriStar Hendersonville
For more than 30 years, TriStar Hendersonville has served women of Sumner County and surrounding areas. We continue to expand to meet the growing needs of our community by providing a full range of OB-GYN services such as routine exams, minimally invasive surgeries and advanced diagnostic imaging.
For expectant mothers, we provide a full range of maternity services in a warm, nurturing atmosphere. From prenatal visits to labor and delivery, we offer comprehensive, family-centered services for new moms and infants. By combining clinical expertise with a compassionate, caring treatment philosophy, we're here for women of all ages.