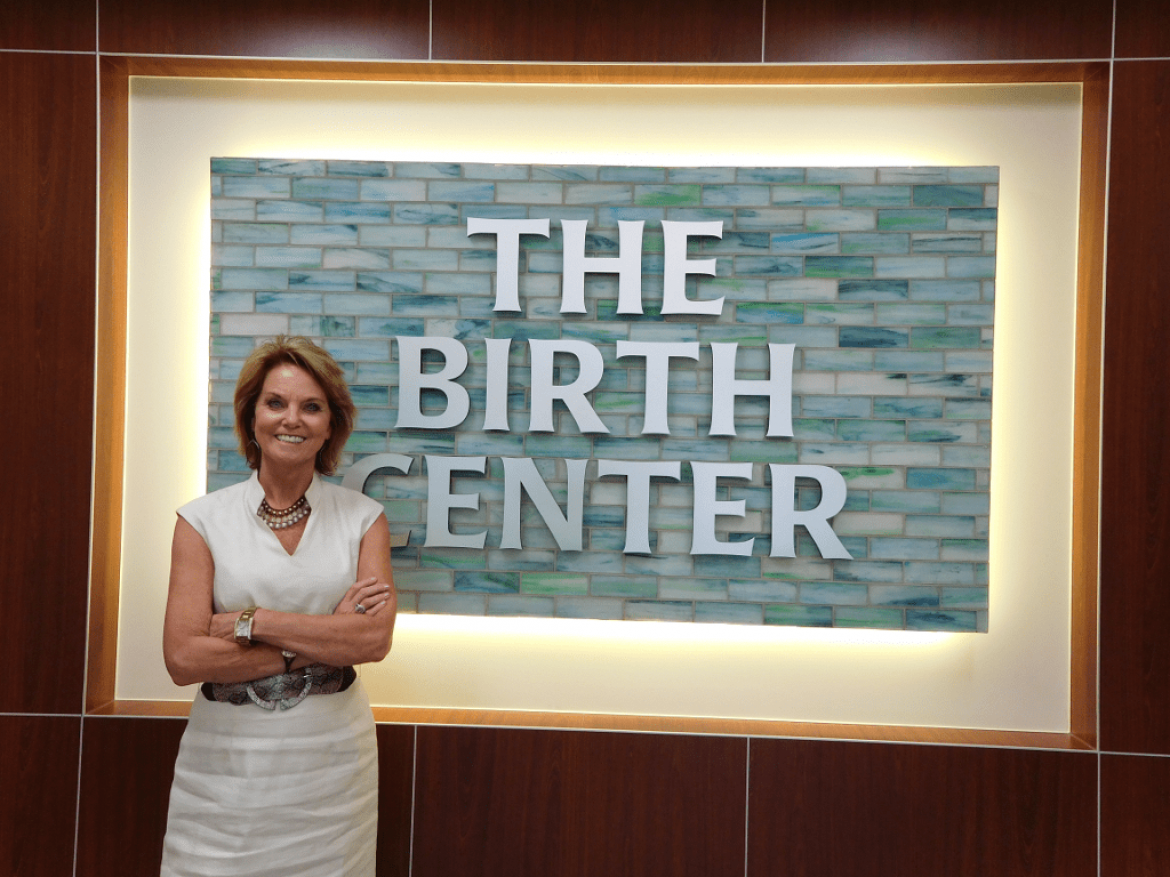 How a New Birth Center has Impacted Lives in Sumner County
Our tagline at Batten & Shaw is "building to make life better" and unlike many companies, our tagline is not a fancy marketing term, it's a part of our culture. One way we bring those words to life is by sitting down with our clients after a job has been completed to find out how the lives of those impacted by one of our construction projects is actually better, because of the work we preformed. With this in mind, we sat down with Jan Alexander, the Director of the Birth Center at TriStar Hendersonville Medical Center in Hendersonville, TN to learn more about how life is different now.
Jan Alexander is the Director of Nursing at The Birth Center at TriStar Hendersonville. She is responsible for overall operations, physicians and staff. She's the visionary person, and competitive to be the best and have the best. She spent a lot of her time making sure they were the best Level II hospital they could be. She had a vision for The Birth Center a little over a year before construction started. She took it to her managers who then rolled it out to her staff so they all had the same foundation for what they wanted in this new facility: single room care, single room NICU care. Her vision became a reality when Batten & Shaw completed construction and The Birth Center opened its doors in January. Jan sat down with us to talk about how life is better since the facility opened.
Q. What were the primary reasons the Hospital decided to expand the center?
A. We knew we needed to add a NICU so people in Sumner County would feel comfortable delivering here. We want our babies close to home, we really support breast feeding and the best way to do that is keep everybody right here. And we had really outgrown our old space.
Q. What kinds of challenges was your staff facing prior to the expansion, in the previous working environment?
A. Our biggest challenge was only having 6 LDR's, so patients were pushed out and moved to another room. The Birth Center was designed so all rooms were the same size, so you wouldn't get pushed out to a different room. So everyone is treated equally.
Supplies and equipment were scattered everywhere. Now they are all in the same spot. We have a little ante-room we use to set up the delivery tables, and where we keep common equipment like a doctors stool to sit on, a mirror, and then we added cabinets in there. It was best if we met, looked at the space together, and determined the best use of the space.
Q. If a family has never visited your facility, what would you like them to know about it?
A. We live by our tagline of being family friendly. We're here to care for the patient and their newborn, but we care for the whole family. That's why we designed the birthing room. We wanted the Labor Delivery Recover and Post-Partum Rooms (LDRP) to be large enough for the whole family. We have a 7 foot sleeper sofa, a recliner which is also a sleeper, and a dining table so families can enjoy a meal together. One philosophy of ours is that Family Friendly goes all the way through to the NICU – family is welcome anytime; we have no visiting hours. Family is part of this experience. On the night we opened everyone was dead tired from moving. It was a glorious day. I went into a room that I thought was empty (the front part of the room was dark but the back where the dining table and sofa is was lit up) and there was a 3 generation family (mom/dad, grandparents, and baby) all enjoying a Chick-fil-a meal. I just thought, "We made it!" My vision had become a reality. The nurses buy into the philosophy so we all live by it. The moms get out of bed and enjoy it. We built it and they're living by it.
Q. When it comes to your patient experience, what's most important to you and your team?
A. Honestly, it's meeting the patients' basic needs. Their need to be fed, need to be educated…I think when you provide all the amenities that touch those basic needs you have a happy patient. You have enough staff, enough seating for your family, you have a big enough room, good lighting, a bathroom that that they can all use. It's having that environment and the nurses showing them how to use it – it's a partnership.
Q. How has the new facility helped make your staff more effective?
A. The physical structure is a big part of what makes this place so special. One of the biggest benefits for me and my staff is having everything we would ever need right there in the room. It was designed so everything had its place; it's all there, out of the way so you don't have to worry about it. That gives us more time with the patients. There's less frustrations and happier nurses.
Q. How important is your work environment and technology in terms of the ability to deliver high quality patient care?
A. Environment is essential – In a hospital setting particularly in ER and Labor and Delivery you have lots of emergencies. So we have our patient call system on the wall – and our nurses carry iPhones so at delivery if you have an emergency you push a certain button and it shoots a message to respiratory, the doctor, anesthesiologist, nurse practitioner – all those people get a message to come to that particular room. That one system alone has made a huge difference in life-saving situations.
There's a patient setting on the panel as well. The patient can just push a button for the person she needs and they can speak to them right over the speaker. No more calling people – it's just immediate response.
Lights in the ceiling… normally you have lights that you share between rooms and have to adjust. Now you just press a button and they're right there in the ceiling.
Baby scales are in the bed. So a baby who is critical or having issues can be weighed without being transferred from one thing to another. And the warmer piece of equipment also has a ventilator type system in it so you don't have to manually bag somebody, you just set the rate, you set what you want, and it does it automatically.
All those things make a big difference and it makes the environment more efficient.
And the end result is that I have a waiting list of nurses that want to work in this department, both in labor and delivery and the NICU. That is what speaks volume to the overall aspect of this project. We built this amazing building which created this environment that everyone wants to work in.
Q. How has the patient experience improved?
A. Our patients are amazed. They cannot be happier. Our patient satisfaction surveys are at an all-time high. Our patients are extremely happy. And it goes to a whole new level when you take them to the NICU and the parents can stay there at the most stressful time in their life and there is no other place around here that allows that.
Q. What do you like most about the space?
A. Happy nurses, happy patients, happy doctors. That it's functional and everyone is happy, and that I have a waiting list of nurses wanting to come here. Everybody, patients, physicians and staff feel like they are treated well here.
I am re-energized with The Birth Center – this has really been a high. We have pediatric cardiology doctors who come down from Nashville and they love it. Not only do they come to the NICU to see babies who have heart issues, they've also opened up an office two days a month here on campus so that was a side win for the hospital.
To learn more about The Birth Center visit tristarhendersonville.com/service/womens-care